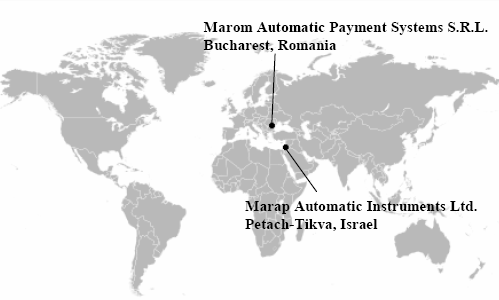 Management
Marom Automatic Payment Systems is Romanias leading supplier for unattended payment systems. Marom has built it's reputation on quality and reliabilty of its products and service.


Our main line of products is manufactured by MEI. MEI holds the world's largest installed base of unattended payment systems, handling over 2 billion transactions per week in more than 100 countries. The company developed the first electronic coin mechanism in the 1960s, followed by the first electronic non-contact bill acceptor, and more recently its credit card capability and vending management solutions software.
MEI Distributor
MEI Authorized Service Center
In addition to MEI, our portfolio pf products include:
Marom is a subsidiary of Marap Automatic Instruments Ltd.
Click to visit Marap Automatic Instruments Ltd.
Marom is a leader in providing specialty payment system for the Vending industry.

Our team is able to assist you with professional consultation in order to meet your application requirements. If you are interested in receiving additional information, please let us know.
Click Here

Marom is a leader in providing specialty payment system for the Transportation and Parking industries.

Whether it's currency validation instruments or pre-paid solutions, our team is able to assist you with professional consultation in order to meet your application requirements. If you are interested in receiving additional information, please let us know.
Click Here

Marom is a leader in providing specialty products that include paymeny systems for the Retail Industry.

Whether it's currency validation instruments or cashless solutions, our team is able to assist you with professional consultation in order to meet your application requirements. If you are interested in receiving additional information, please let us know.
Click Here